If you watch closely, you might notice Model UN popping up in all sorts of unexpected places, especially on film and television. And why wouldn't you?! Model UN-ers are pretty hilarious. What could be more fraught with drama than 200 people discussing nuclear non-proliferation? Model UN has all the necessary qualities to make a fantastic sitcom or dramedy. Today, we present a top-5 list of Model UN in pop culture.
5. Winning London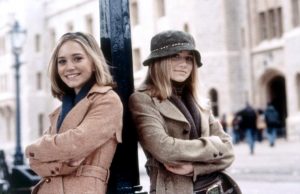 In 2001, Mary-Kate and Ashley Olsen starred in the direct-to-video movie, Winning London. It is still one of the current AMUN Secretary-General Kate Koett's favorite Model UN-themed pieces of pop culture. Mary-Kate and Ashley set off for London for an international Model UN competition, and all of the traditional Olsen fare ensues. There is a lot of shopping, sight-seeing, flirting with nobility and an engagement. However, all of this takes place against the backdrop of Model UN, which makes this film unique when compared to other examples of Model UN in pop culture. Winning London actually shows the inner-workings of a committee, demonstrating how to negotiate a compromise with other representatives and collect signatures for a draft resolution. It even suggests some less-than-ethical ways of working with representatives, such as bribing them with food.
4. "The Other Smother," The Goldbergs

A more recent example is from the first season of The Goldbergs. Erica Goldberg is the most popular Goldberg child, but she didn't start out that way. Erica's freshman year of high school was filled with extracurriculars, including the debate team and Model UN. After her freshman year becomes too stressful Erica quits all of her extracurriculars but never tells her parents and proceeds to spend the next three years faking her involvement in these activities. After a heartfelt conversation with her grandfather, she reveals that she is just as stressed by keeping up the farce as she was her freshman year. Erica's grandfather helps her realize that if keeping up the lie is causing her so much stress she might as well go back to the activities she really enjoyed. The episode ends with Erica returning to the Model UN club and apologizing for leaving. Her old team welcomes her back with open arms, revealing the true moral of the episode: your Model UN friends will always be there for you.
3. "Das Bus" and "Lisa the Drama Queen," The Simpsons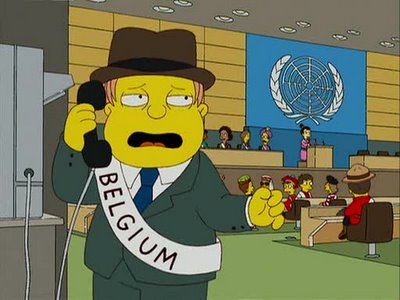 The Simpsons is a fantastic example of how a Model UN club should never behave. In season nine episode 14, the audience watches Bart and Lisa participate in their middle school's Model UN club and prepare to leave for the state competition. The audience never gets to see the competition but we can only assume that they did very poorly. Each of the participants is dressed in what they believe to be the appropriate national dress (AMUN staffers would have asked them to leave committee and return in appropriate Western Business Attire). Bart is clearly not prepared to represent the state of Libya and Lisa attempts to implement a little Diplomatic Courtesy, through proper use of a Point of Order, but is shouted down by her peers. If Lisa had been at an AMUN conference the Secretariat would certainly have helped her committee maintain diplomatically courtesy. This is the perfect scene to watch if you want to know what not to do at AMUN.
2. "The Treaty," Parks and Recreation

Season four episode seven of Parks and Rec is hilarious to watch, and the AMUN President of the General Assembly thinks it should be required watching for all Model UNers. In this episode, in which a Model UN competition serves as the perfect setting for characters to solve an unrelated problem, Leslie Knope (the protagonist) and Ben (Leslie's romantic interest) are trying to help a high school Model UN conference get up and running and act as representatives alongside the high school students. When Leslie and Ben get into a fight in their personal lives it results in Leslie, representing Denmark, declaring war against Peru, represented by Ben. Eventually, the other representatives eject Denmark and Peru from the conference due to their poor behavior (aka failure to remain diplomatically courteous). Things end happily when Leslie and Ben agree to help the students put on their own state-wide conference at City Hall.
1. "Geography of Global Conflict," Community

Community is another sitcom with something of a cult-following that has used Model UN as a backdrop for plot development. In season three, episode two, two teams at Greendale Community College compete to see which team will represent their school. As is often true, Community depicts a very simplified version of Model UN with only one topic presented at a time, which all representatives must work together to solve. This episode shows the true goal of Model UN, though, using outside the box thinking and consensus building to tackle global issues. In this particular situation one Model UN team travels through space and time to forge a treaty with the opposing team; they had to overcome some serious challenges to achieve consensus.
All of these individual examples show just how great Model UN is in popular media. Why isn't there a Model UN television program? The episodes would practically write themselves. As the longevity of the UN in New York has proven, the writers would never run out of compelling content. NBC, it is time to wake up and smell the parliamentary procedure. Model UN needs its own show.